Halloween Meltdown Day 1:
Amyl and The Sniffers Make a Rickety Festival Worth It.
By Katia Novak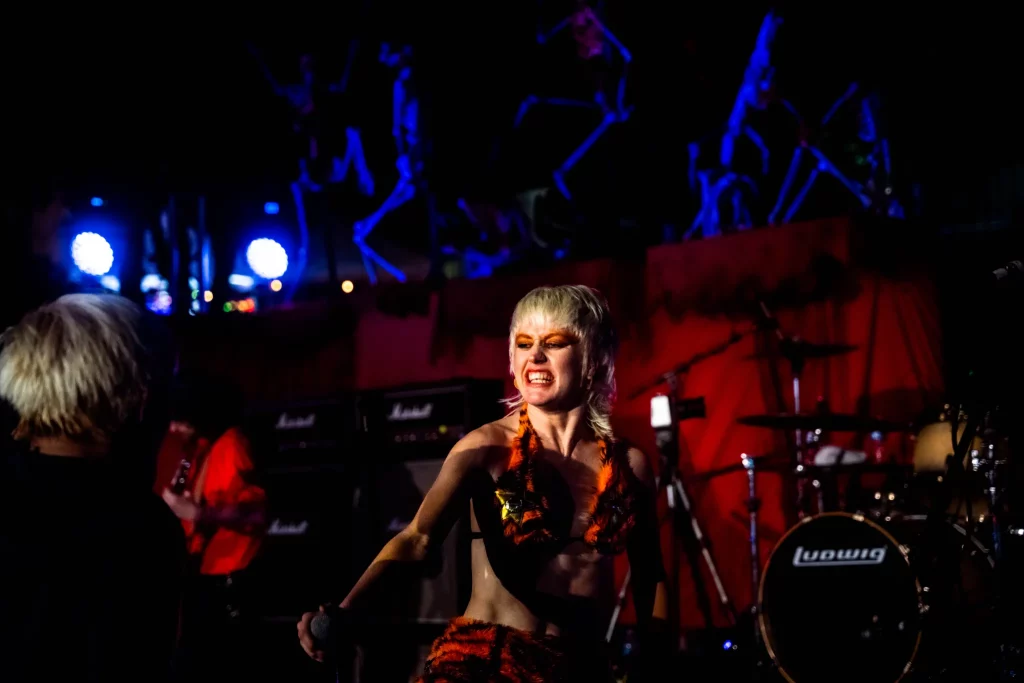 Amy Taylor of Amyl and The Sniffers. (Picture: Elaine Caton)
Oakland's Halloween Meltdown 2022 music festival was a scaled-down version of its former self but no less talent-packed than before. The main stage was the only stage, a humble cement amphitheater surrounded by swaying evergreens. Early arrivals milled about, decked in costumes ranging from genius to just-a-hat. They had all come to see a formidable lineup of hardened punk legends, bubbling young acts, and the "Pope of Trash" himself, Mr. John Waters. As host, that night he'd usher on that tiny stage a headliner that was too big to fit – Amyl and The Sniffers.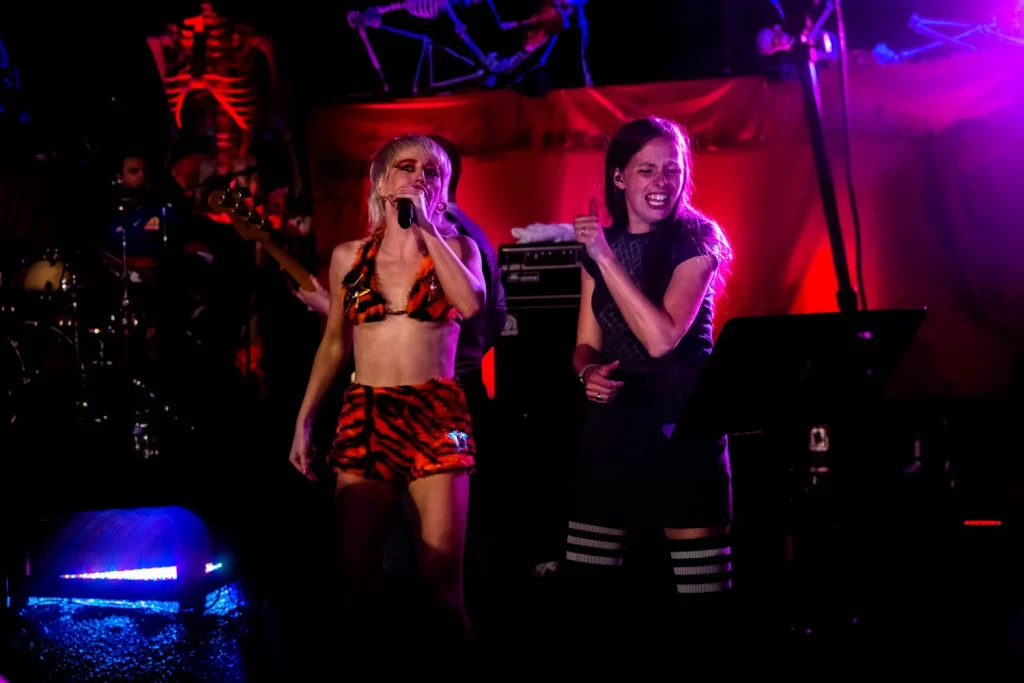 Amy Taylor and an ASL interpreter on stage (Picture: Elaine Caton)
"Oy oy!" they howled in Australian as they bounded onstage. Without much foreplay, they launched into a set of old favorites and most of their 2021 album, Comfort To Me.
In deference to American tradition, frontwoman Amy Taylor was dressed in a bikini top and shorts made of a cheap, fuzzy tiger-stripe fabric. "Like Tigger but a cop," she'd been told. She may've been dressed like a plush toy, but she possessed the ferocity and muscle of a real jungle cat. She stalked with shoulders up, bore her fangs.
Unsurprisingly, their sound is bone-rattling, but, unlike a stereotypical punk band, they've replaced male anger and cynicism with a sort of reverence for life: "I wanna be part of everyone and everything," went "Don't Fence Me In." And later, during "Security," "I'm not looking for trouble/ I'm looking for love."
In a moment that would become a highlight, a woman joined Amy on the mic, forehead to forehead. At the end of a verse, she fell into the crowd like Dracula into his coffin and was lifted skyward and celebrated as a hero.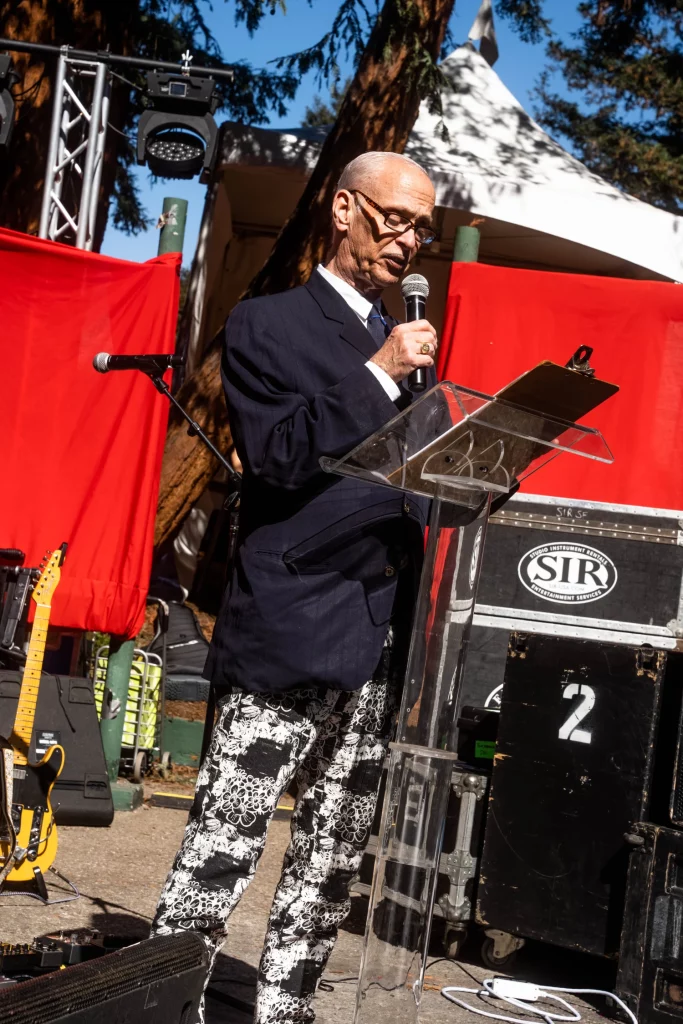 John Waters introducing The Bugs (Picture: Elaine Caton)
Earlier that day, a solid parade of talent was conducted by John Waters, who emerged in his reading glasses time and time again to shrill applause to make his pithy introductions: "Have no fear, it's Halloweiner!" "I was on the cover of Town and Country this year, top that bitch!"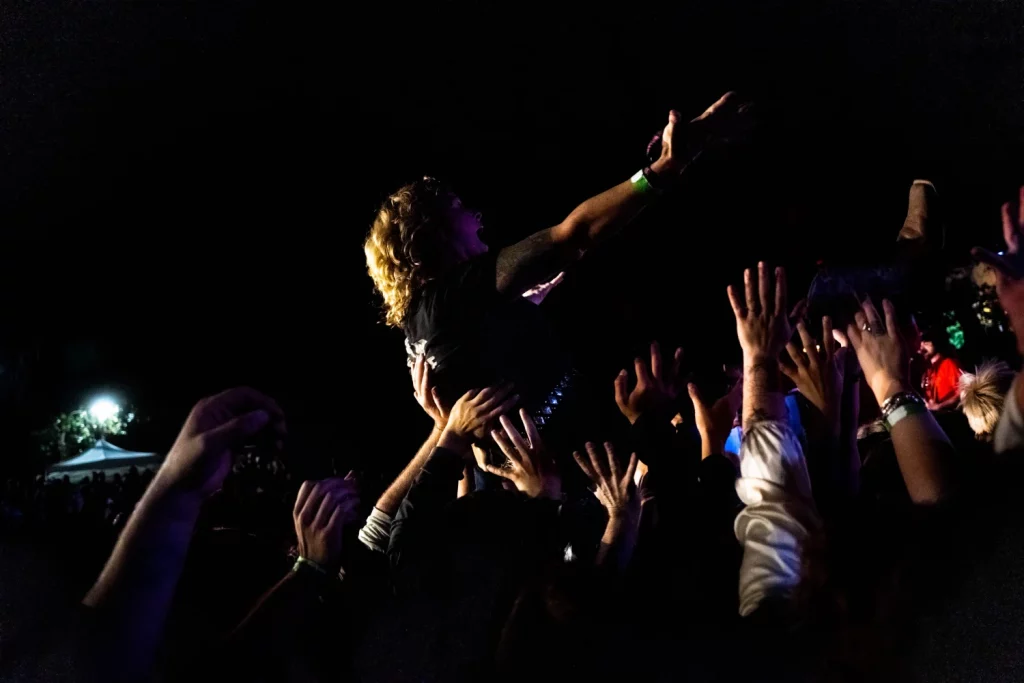 Crowdsurfing at Halloween Meltdown (Picture: Elaine Caton)

The Bugs kicked things off. Oakland's own, Fake Fruit, were a memorable act. Though their oldest single only dates back to 2021, their bouncy sound was bold and self-assured. Body Double and Warm Drag throbbed hypnotically as spectators arranged picnic blankets and unboxed their dinners.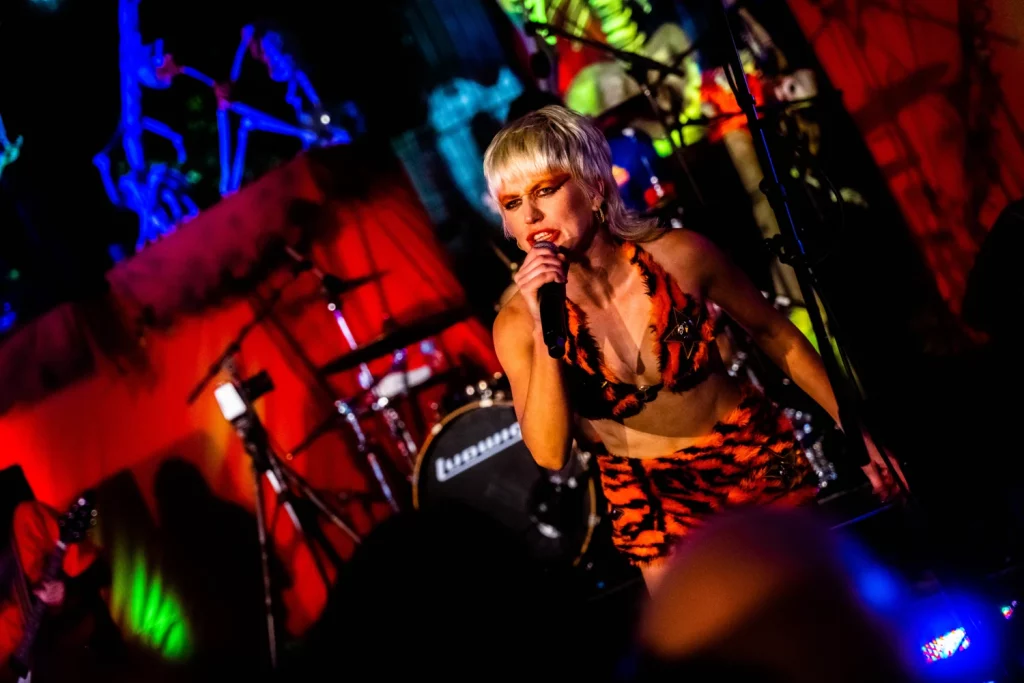 Amy Taylor (Picture: Elaine Caton)

Afternoon faded into evening and the seasoned pros, like Lydia Lunch and The Spits, rolled out. The Demolition Doll Rods and The Spits fell victim to technical difficulties on the venue's part, but did not let it define their high-kicking, dirt-nasty sets, respectively. Kid Congo Powers and his Pink Monkey Birds, delighted with a boisterous voodoo spirit. A former member of legendary outfit The Cramps, Powers wore the seasoned smile of a man who's just here to have fun.
If there was any grudge to be held against Halloween Meltdown for their pared-down production, the talent pool mostly absolved them of their sins. Amy Taylor must've known they carried the night, flexing her muscles for the crowd like a proud bodybuilder before walking off into the dark.
Amyl and The Sniffers and a giant skeleton in the background (Picture: Elaine Caton)