Desert Daze 2022, The Most Intimate Festival Within Yourself and Your Favorite Rock Stars.
By Maryzelle Ungo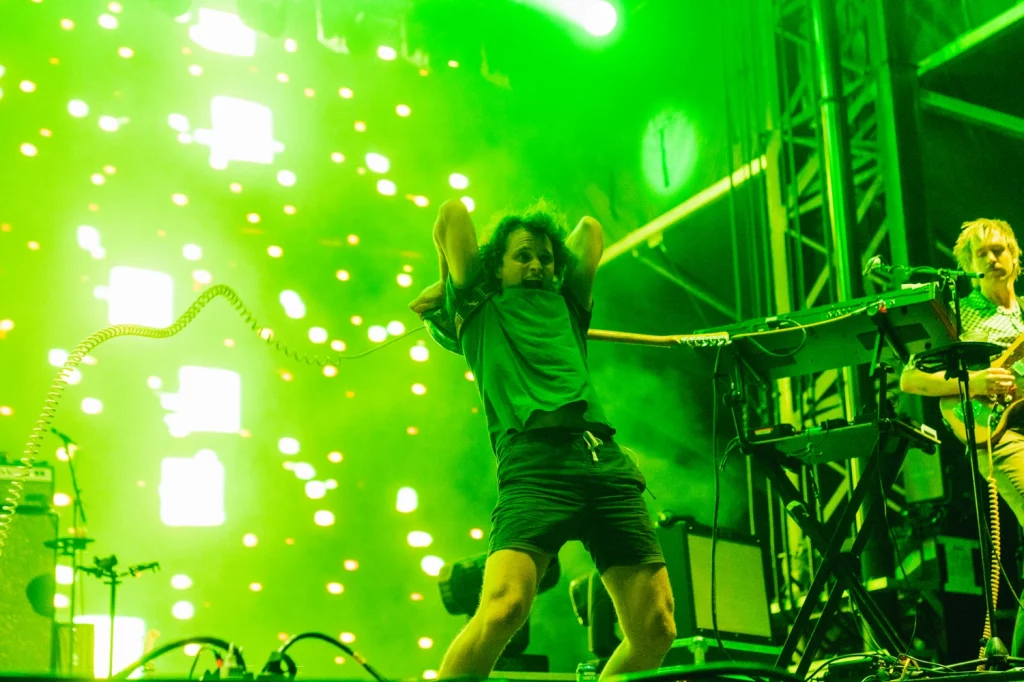 King Gizzard and The Lizard Wizard at Desert Daze. (Picture: Desert Daze)
Between the music, meditations, yoga, & soundbaths at your daily convenience, you are bound to become intimate within yourself and have a spiritual experience of some sort. Not to mention the magical spirit of the desert that surrounds you the entire time. Pablo Sotelo from Innerwave mentioned that the lake on the festival grounds, Lake Perris, is used by the nearby churches to conduct baptisms. He himself was baptized in this very water when he was younger. Speaking from experience, after I took the time to swim in the water and overlook the desert hills, I can definitely say on my behalf that I felt some holiness in that lake. There's something to be said about the holiness of listening to live doom metal from a far while peacefully floating in a body of water during sunset. It's hard to ignore the sacredness and beauty of the desert while it sits so effortlessly in the background of every performance. The best one was when badbadnotgood was performing during the sunset which painted a pink and purple hazed sky. The moon was out at the same time as the sun at this hour, and created a hypnotizing scene that sat right above the desert hills. All this goes to say, with the nature accompanying this transcendental music, you are bound to have some sort of spiritual experience within yourself in this festival.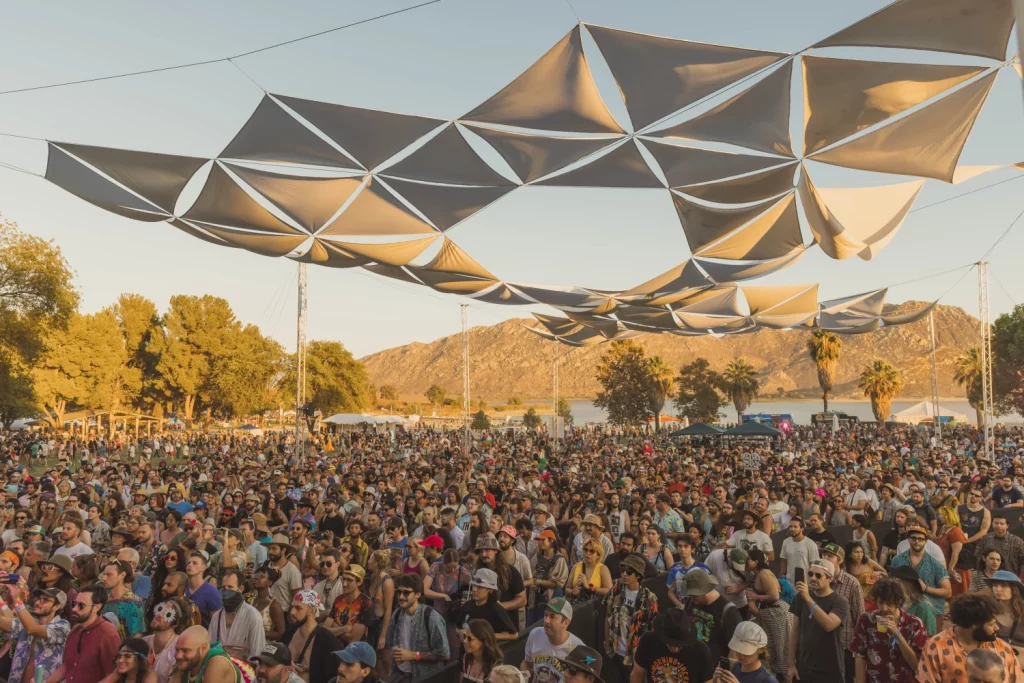 A massive crowd enjoying Desert Daze 2022 (Picture: Desert Daze)
On top of becoming more intimate with yourself in this spiritual vortex of a place, you're also becoming intimate with your favorite musicians.
It felt like in every show I saw, there were artists everywhere enjoying the music. I was right next to Reggie Watts for Men I Trust, Kikagaku Moyo, and King Gizzard. He had so much passion and energy about each show. From screaming to laughing- he had the perfect reaction to every movement the music made. During Cortex, I was in front of Joey Walker from King Gizzard & the Lizard Wizard and I was able to tell him I was a huge fan. He then responded with, "me too!" and I had to clarify that I meant I was a huge fan of his, not Cortex. I ended up becoming cool homies with Kevin from Mildlife and had an amazing Desert Daze experience with him. He even let me get on his shoulders for the last song of Tame Impala which made me feel like a Giraffe because he had to have been 2nd place for the world's tallest man in the Guinness book of records. I saw his set on Saturday while Stefan from L'eclair and I shared some mushrooms. In the morning my friend and I were waiting in line for a food truck and she was able to have an entire conversation in Japanese with the sitar player from Kikagaku Moyo. I can't count how many times I walked by LA Witch and just admired their witchy desert fits they had on. Felt like the perfect fashion scenery for them. I've been to a trillion festivals and neither one comes close to the intimacy I feel at Desert Daze. Intimacy within myself and within the musicians I look up to everyday.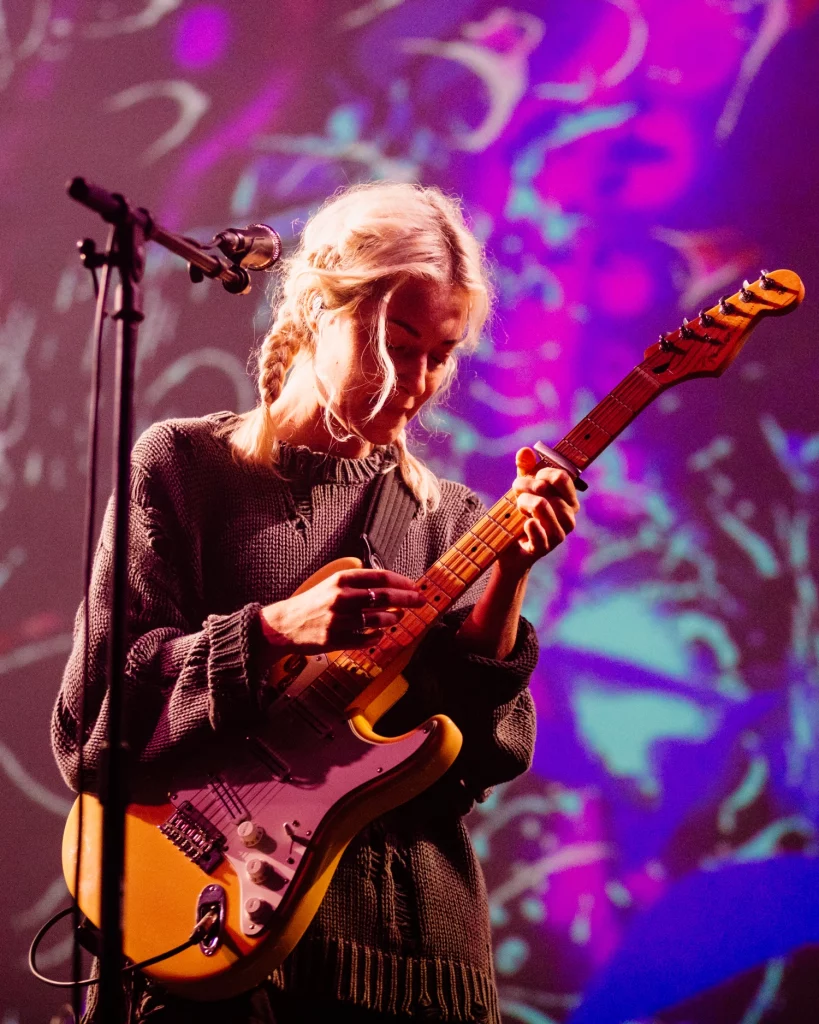 Men I Trust (Picture: Desert Daze)
This festival also wins #1 for incorporating all types of psychedelic music from all over the world. We had L'eclair from Switzerland, Kikagaku Moyo from Japan, DakhaBrakha from Ukraine, Mildlife from Australia, Badbadnotgood from Canada, WITCH from Africa, and of course much more heavy hitters from all over the world. Psychedelic music is all over our planet, all over the stars, cosmos, and galaxy… and Desert Daze puts a stamp on this statement.
Most impressive set: Kikagaku Moyo on their Jimi Hendrix shit. Most impressive thing I had to have seen during DD 2022 was when Tomo from Kikagau Moyo broke one of his strings during the middle of ripping. When the string broke, faster than I could blink, he whipped out envelopes of different guitar strings. As the band kept playing , he was able to replace the broken string with a new one and tune it in a matter of seconds. Without missing a beat, he jumped back in and was ripping in no time.
[videopress ilYElzbN]
It was the most Jimi Hendrix thing I've seen this entire weekend.
As I witnessed the entire thing with my jaw dropped, I made eye contact with the drummer, Go K and he gave me the biggest smile. He must've been so stoked to have someone witness that entire thing.
Best Wes Montgomery Impression:
Jessy Caron from Men I Trust. Needs no explanation. Just watch the video.
[videopress DTK0Xpn0]
Most artistic set: Badbadnotgood on their artistic shit with live 16 mm looping. Badbadnotgood had a professional film dude up on stage with them as they were performing and he must've had pounds of tape up there with him too. It was so cool to hear their performance and have visuals of something that's being conducted in reel time. Definitely an experience I'd recommend having of watching live 16mm tape loopings as Leland Whitty loops live saxophone riffs. In reel time. (ok I'll stop now.)
Best performances go out to
1) Beach House. With their set ending, Victoria said "Live your best life, because you've only got one," and that hit me HARD. It felt like the deepest advice I've ever heard and it was probably because I was in a very vulnerable state from just experiencing their entire set. I even felt like I had a physical and emotional detox through shedding some tears during their music. Afterwards, I felt so transcendental that I went to the lake to meditate and reflect on what came up for me. My friend Eileen joined me as well and described their music by saying, "this is what dying feels like."
2)Frankie and The Witch Fingers killing it and having a massive mosh pit for their entire set. They watched the mosh pit like it was a dog watching a piece of meat on a grill. I can just feel them wanting to be part of it. The singer was able to get a taste of the audience's energy towards the end,when he jumped into crowd surf.
3)L'eclair playing in front of the hot scorching sun and having us feel like we were in a different galaxy with their out of this world time signatures and musical tones.
4)Mild High Club playing all their bangers with some type of salsa and moon analog synthesizer twist in each song.
Frankie and The Witch Fingers crowdsurfing (Picture: Desert Daze)
CAMPING: Camping was the best it's ever been during Desert Daze's 10 years of being alive. I don't think any camping experience can beat me cooking vegan breakfast tacos on the camping stove while just casually hearing Tame Impala perform songs off Lonerism during their soundcheck. I had the pleasure of camping near a vinyl hippie cowboy spinning country & disco records all weekend. It was a whole scene. He set up a massive disco ball on a tree with couches spread out. At night the disco ball lit up the whole area and there was what seemed like an after after party going on all night every night. In the mornings he would spin Khruangbin records. I remember meeting him and leaving with a thought of, "Man…People who love music are the fucking best."
[videopress 4k6XnZ08]
Desert daze in my heart is known to do things no festival has ever done. Asking Khruangbin to play with Wu Tang Clan during their set in 2019, then making a comeback in 2022 by asking Tame Impala to cover Lonerism in its entirety. I don't know who else could do a festival like this.
This festival is for music lovers. Whether they are music lovers with a kick ass band that has 20 million plays on Spotify and is touring the world, or music lovers with 20 million records in their homes, this festival is made for anyone and everyone. No matter their status, everybody was grooving to the music and being transcended into different planets at Desert Daze 2022.
Maryzelle Ungo – Psyched! Radio SF Correspondant

Maryzelle is a San Franciscan born native who breaths, eats, and sleeps music. As a drummer, she writes her stories from the perspective of a musician and a lover.