Levitation 2022 Review:
John Dwyer Flinging Around Helpless Guitar Pedals, Immaculate Godlike Drumming, Grown Men Crying Lyrics, Acid Dripped Vinyls, and More …
By Maryzelle Ungo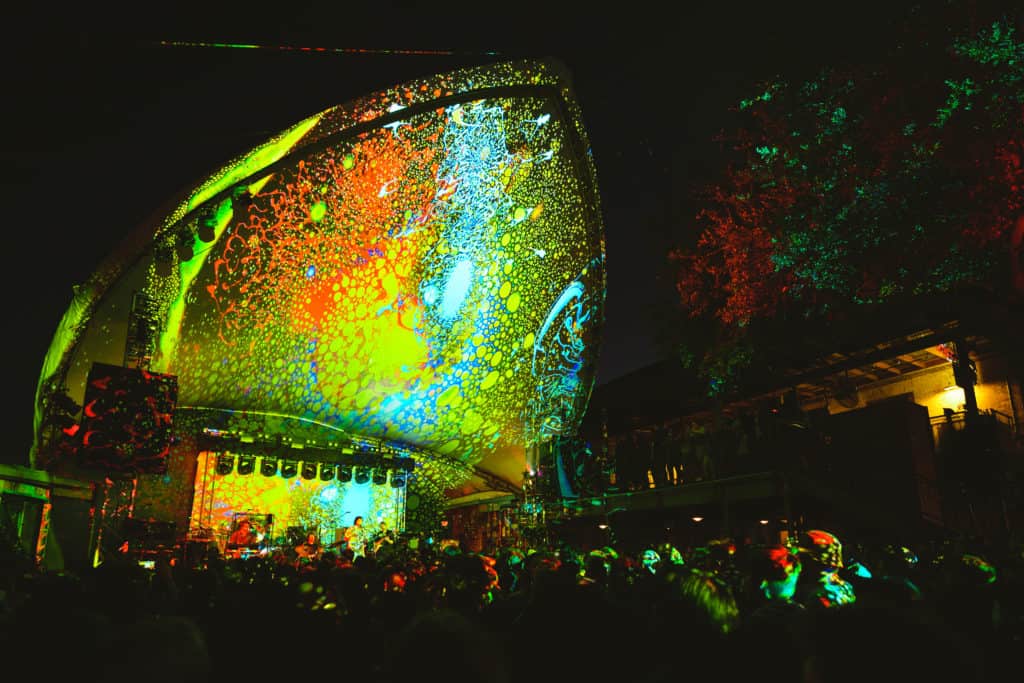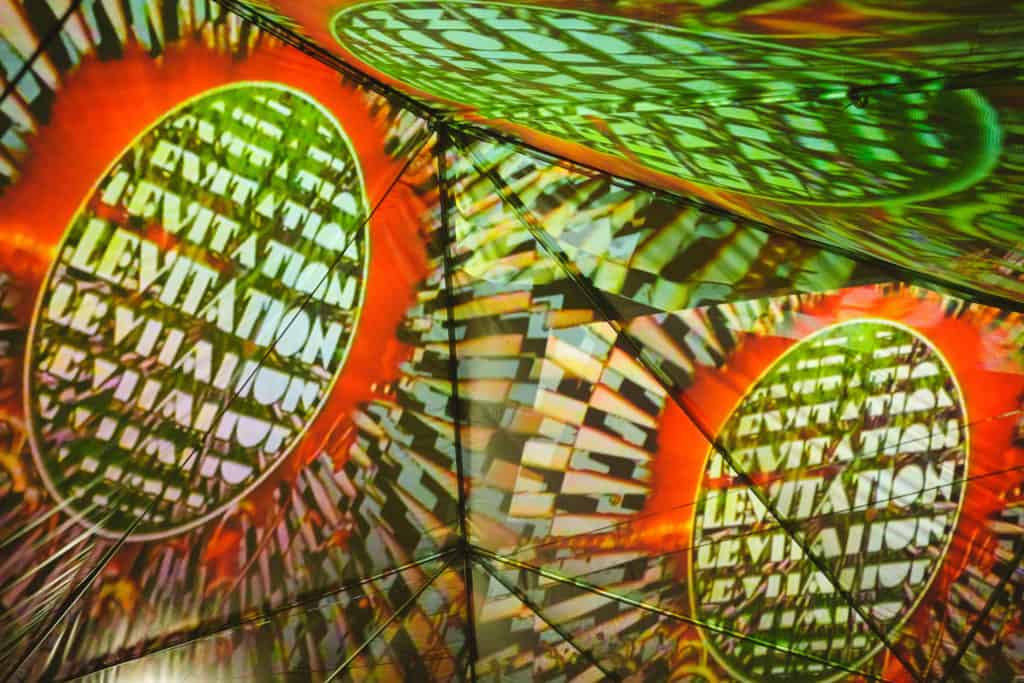 Austin, Texas has a place in my heart like no other city does. It's where I formed my first band, bought my first vinyl, and even had my first love. Austin was my stomping grounds during high school and formed who I am today. Every Friday after school my friends and I would head to The Mohawk and Emo's to see cover bands of The Doors, Led Zeppelin, Pink Floyd, and The Beatles. Fast forward to almost a decade later and instead of seeing someone attempt to impersonate John Bonham on the kit, I experienced someone actually thrash the drums with full Bonham spirit: Paul Quattrone, Osees drummer.
In addition to the Osees incredible headlining lineup, where they performed four nights in a row, and King Gizzard & The Lizard Wizard who performed two nights in a row, I was able to catch other incredible acts like W.I.T.C.H, Godspeed You!, Black Emperor, Slift, Frankie & The Witch Fingers, and many more. Levitation 2022 was one of the best festivals I've ever been to, and these are my highlights: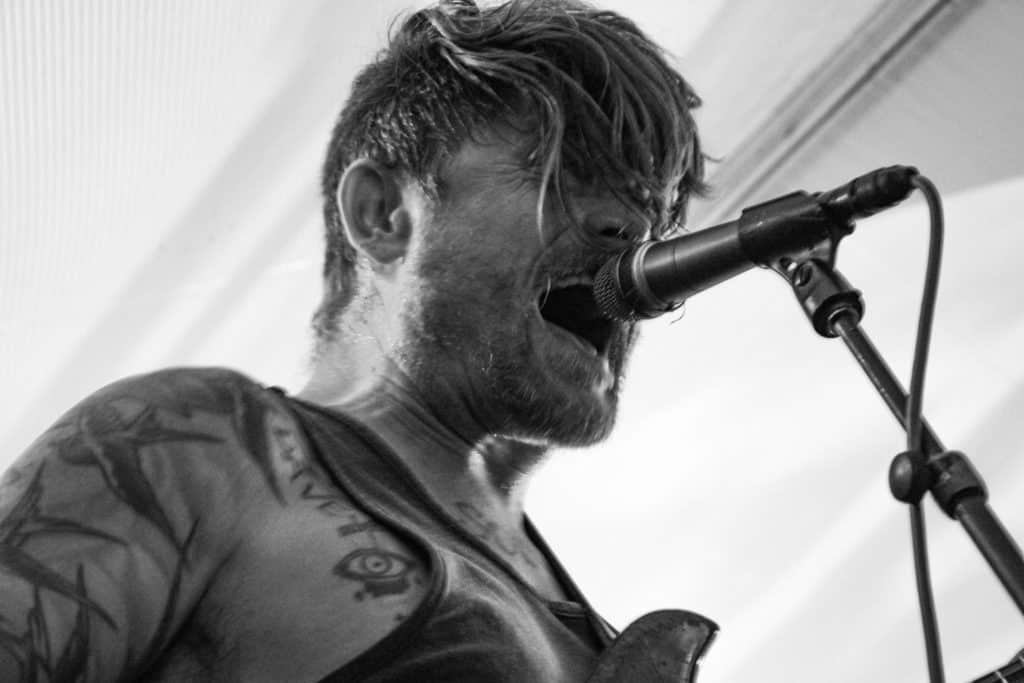 John Dwyer of Osees at Levitation 2022 (Picture: Sheallin Ritter)
Best Performance & Band of the Year (Osees)
Okay, let's cut straight to the point. Not only do Osees win Levitation's 2022 best performance, but they also win band of the year award in my book. Osees did a number of things to become the rightful owners of these two crowns.
First of all, I witnessed the best drumming I have ever seen in my life. Experiencing the energy of not just one thundering drummer but two, was an unbeatable spectacle. Half the time I crowd-surfed and moshed, and for the latter half I was a deer in headlights, standing in awe and mesmerization of such skillful, passionate, and unique styled drumming.
I was so inspired by this top-of-the-line drumming, that as soon as I came back home to San Francisco, I began my own 100 day drum challenge. My drumming will never be the same after experiencing their show.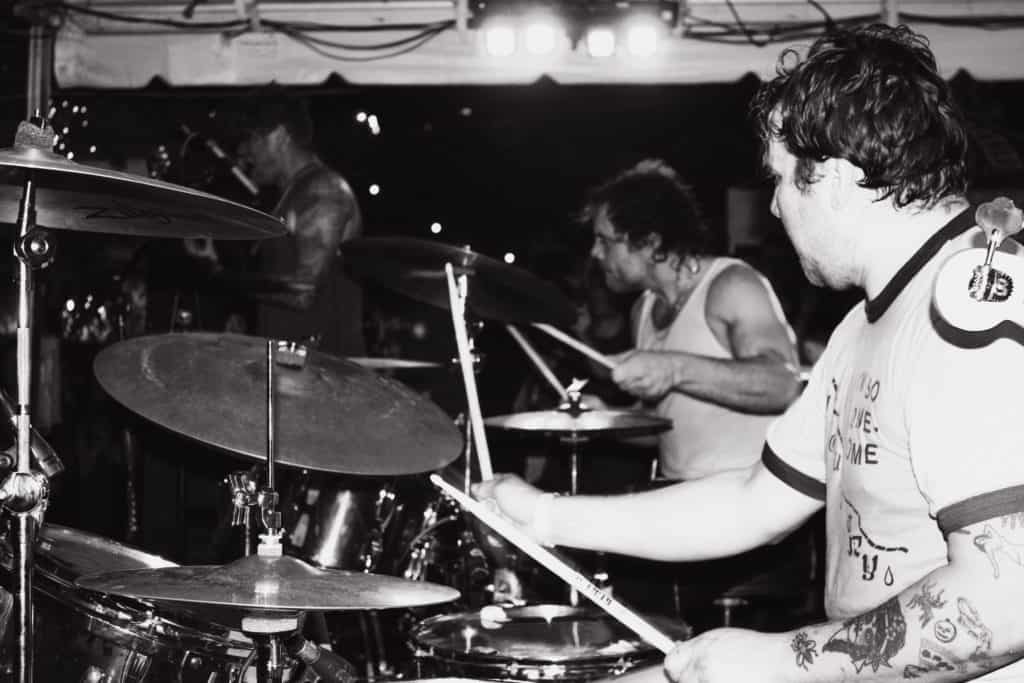 Paul Quattrone and Dan Rincon from Osees (Picture: Shealin Ritter)
I'm sure I was not the only person in the crowd who left feeling inspired that night. Myself, and the rest of the audience beside me, were not worthy to have access to not only one, but four full nights of the Osees' healing music. Osees take the cake for their commitment to a marathon of a four night residency at Hotel Vegas.
Another notable factor worth mentioning was the way they set up and tore down their gear all by themselves. When I asked the band about it they said: "doing it ourselves is a ritual for us. Being the only ones to touch the instruments before and after the set is important." One of my favorite moments while witnessing their set up ritual was when John Dwyer hopped on stage with a cute and innocent canvas tote bag and quickly whipped out a loose daisy chain of pedals and carelessly flung them onto the stage floor. As I watched him continuously fling them around, I made eye contact with the poor pedals and I swear they cried to me:
'Please help us.'
I telepathically responded back to them,
'Nah, don't worry! You guys have the coolest job in the world right now.'
Ultimately, what makes Osees the 'Winner! winner! chicken dinner!' for band of the year, is that after each set, they hung around to talk to fans and see other local sets. You would think that after doing something that's similar to running a marathon, they'd wanna head back to the hotel and relax right after, but it seemed like meeting and talking to fans helped give them more fuel and energy for the next day's set. For having such hardcore kick ass music, they're actually very sweet and sincere dudes.
From experiencing two brilliant drummers thrashing non-stop for an entire set while maintaining high energy for FOUR days, to hanging out with their fans after each set and supporting other acts, and to hosting my first ever crowd surf, how could Osees not win Best Performance & Band of The Year?
The powerful vitality of their set is something you'd have to just see for yourself.
King Gizzard best style: so a mullet, a cowboy hat, and an AC/DC shirt walk into a bar/levitation festival.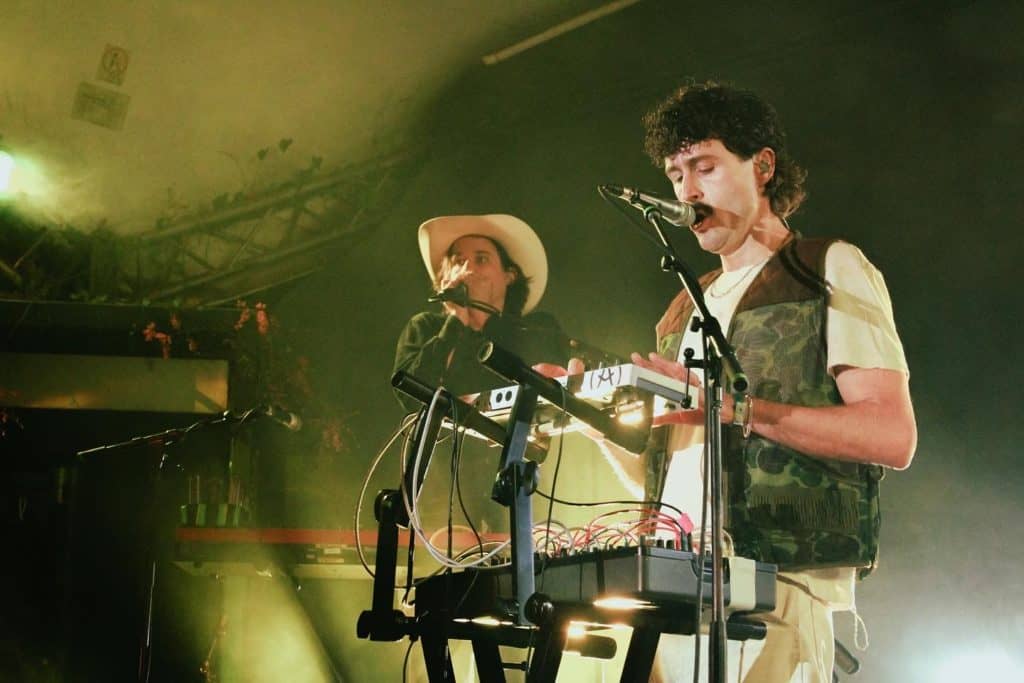 King Gizzard and The Lizard Wizard (Picture: Shealin Ritter)
King Gizzard & the Lizard Wizard had been on a huge tour for almost eight months by the time they did their two day residency at Stubb's for Levitation 2022. I'd say within their eight month long tour, I had probably seen them five times and can vouch that for each show I've seen them perform, They never played the same set. I even heard they intentionally make sure each show they play is completely different from another. They've got a million songs worth of material to pick from, so it makes complete sense they can pull it off. During Levitation, they played songs such as "Hell" from Infest the Rats Nest, "Crumbling Castle" from Polygondwanaland, and even performed "Altered Beast 1" with Leah reading the entire narration part live.
King Gizzard is one of my top favorites to see by far. The energy from them and the crowd is what always captivates me during their sets. What was notable from seeing them live this time though, was their style. Gizz wins best style from Levitation 2022 for sure.
Drummer Michael Cavanagh wore a vintage highway from hell AC/DC shirt that inspired me to listen to AC/DC that entire week for my Levitation recovery. Joey Walker's new mullet was in place and in control for their entire two day residency. Last but not least, Ambrose Smith blew it out of the water with a vintage Oprah Winfrey t-shirt, khaki dickies, cowboy boots, and a cowboy hat for their set on Saturday night. It really matched his killer harmonica playing that would make Little Walter not only proud of his blues skills, but also his blues attire. Ever since I saw them live, I've been practicing my harmonica playing as well.
They're similar to one of those all boy heartthrob bands like One Direction or NSYNC, but instead of stealing the hearts of pop music lovers, they're the heartthrob boy-band of psychedelic rock. And instead of fangirls screaming at their shows and plastering them on their bedroom walls, it's a bunch of grown men music nerds. It's funny standing next to a 45-year-old-man screaming all the lyrics like one of those fangirls in an old Beatles concert footage.
Gizz has one of the best and most committed fans. I'm sure they are well aware of this since they've played more shows than any band I can think of right now. They even came out with another US and European tour for next year, and plan to announce more shows. Be sure to catch them with their new tour dates to see more 45-year-old-grown-men cry out their lyrics.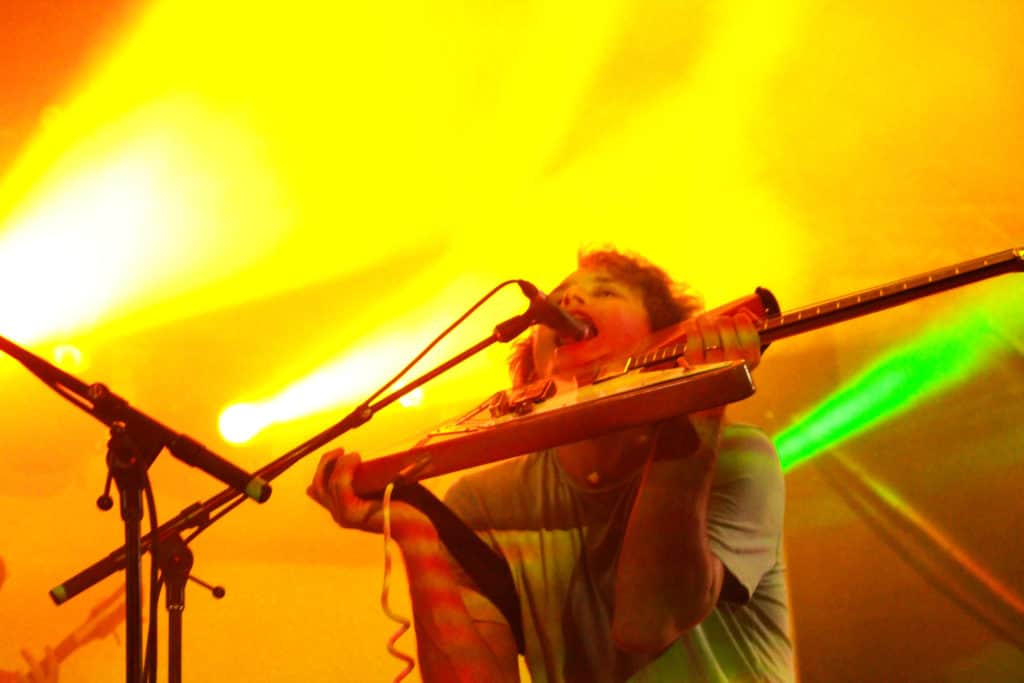 King Gizzard and The Lizard Wizard (Picture: Shealin Ritter)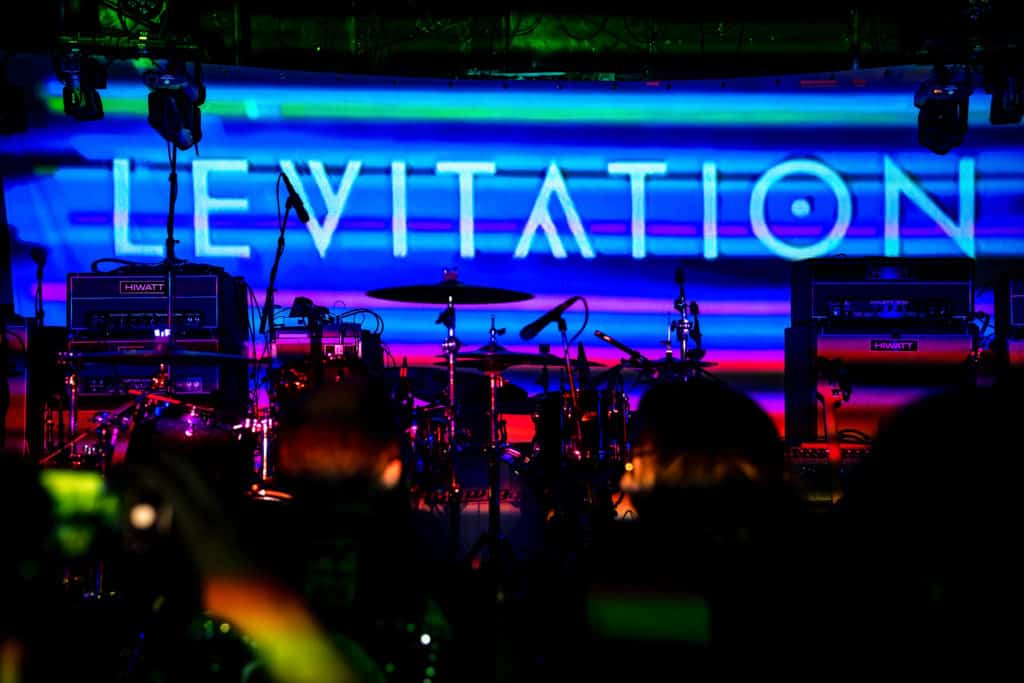 Levitation 2022 (Picture: Shealin Ritter)
Levitation really perfected this festival. All the associated venues hold so much sentimental value to me. The Mohawk was where I first saw Mac DeMarco for only $10 back in 2013, and I can't even begin the list of bands I've seen at Stubb's & Emo's. The shows were also within walking distance from one another and all started in the evening, so it was a real breeze to enjoy the entire festival. I loved the flow of having the full day to myself to rest and recover from the night before, so I can have energy for the amazing lineups at night.
The festival's merch table was covered in the best art I've ever seen. There were acid drip vinyls & Metallic shimmered band posters plastered all over the walls. I was drawn to always admire the art as if I was in a museum, when I'd walk by the merch tables.
I suggest taking a look for yourself on their shop's website here. Levitation 2022 wins best style, merch, organization, and hosting the Osees, my favorite band of the year.
I can't wait for Levitation 2023 on October 26-29. Don't miss out and be sure to have an out of this world experience in Austin, Texas too!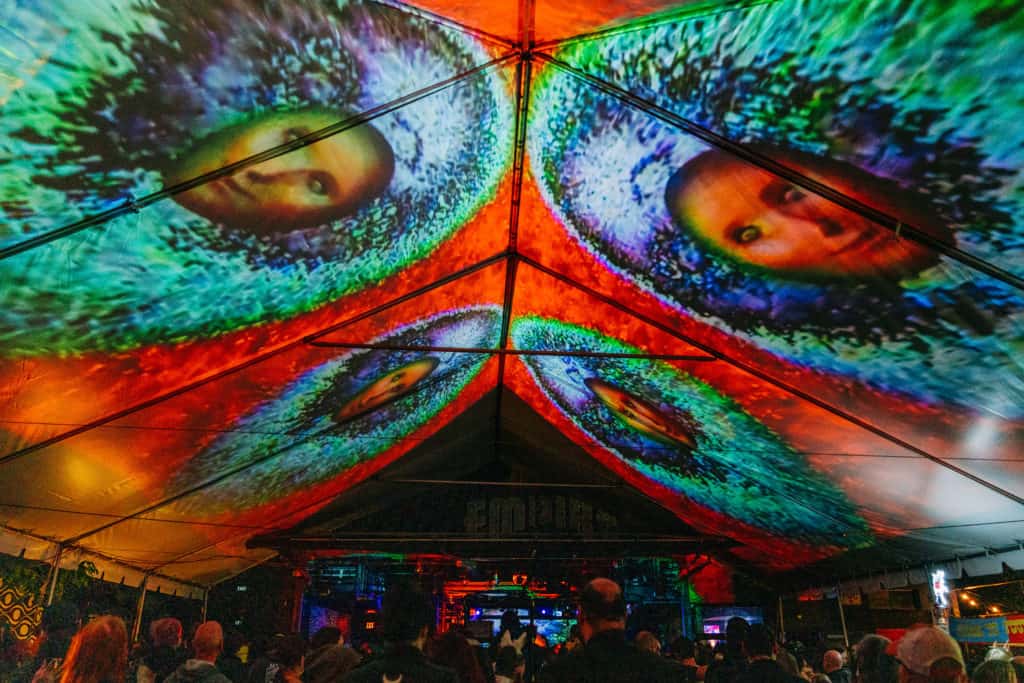 Maryzelle Ungo – Psyched! Radio SF Correspondant

Maryzelle is a San Franciscan born native who breaths, eats, and sleeps music. As a drummer, she writes her stories from the perspective of a musician and a lover.