April 28-30,2023

Psych Fest Review: Superfonicos psychedelic dance ritual, headliners and stage breaking performances,  a spotlight of Texan band, Sheverb, and Night Beats, Danny Lee Blackwell's take on style and sound. 

Upon immediate arrival, festival staff called for a brief storm intermission. Frankly, there was only a small sliver of hope that the music would resume, but after the promised passing of the thunder and lighting, Austin Psych Fest recommenced. In a large outdoor venue quaintly located at the crossroads of S. Congress and Ralph Ablanedo, Far Out Lounge and Stage held what could be considered one of Austin's best sonic entertainment events. At every turn of a honky-tonking two-step corner the staple cowboy(girl?) boot could be seen peeking from beneath men and womens tailored trousers. The fashion beheld was a fusion of traditional Texan swank and informal casual wear from the mid 70's Americana. The styles held a great range from days one through three, crowd members based their looks upon the artists taking the stage. Day one brought more traditional festival pieces of glam and glitter, moving into day two where leather was brandished like in a dystopian post punk western, leading into day three which called for a latin essence of pointed boots and big brass belt buckles. As though stepping onto a gravel pathed runway, the public made their statements, and by the wash of their denim they said: Bring us music!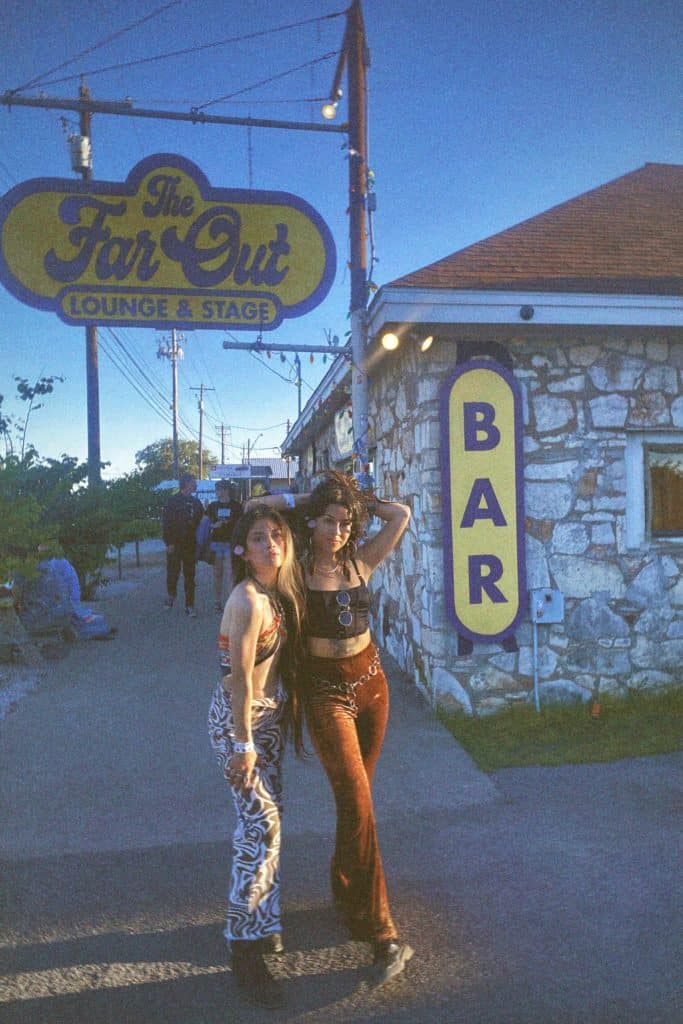 Some of the most impressionable bands were Crumb, Night Beats, Superfonicos, Sheverb, Daiistar, Cuco, Melody's Echochamber, The Black Angels, and Yves Tumor. There was an element of nostalgia which spilled from the cups of the music parched masses. Bands which had not played live in years took to the Willie and Janis stages releasing their sweet psychedelic ambrosia unto the sea of people. Like prophets and healers, bands like Superfonicos cast a spell upon their fans. Flute and trombone, played by Andres Villegas and Zumbi Richards, broke into a call and response with one another, while bassist Nicolas Sanchez stomped on the stage as if to awaken the ancestors that lay resting, awaiting the sound of music to rise up again. 
"Suelta!" Everyone repeated. With a single gesticulation of the hand, lead singer, Villegas, implied that something was occurring, the spirits that lived within each body were being invoked and the chains which bound them were to be broken. By the sound of Afro- Colombian Caribe percussion, strong brass sections, and a single handed guitar solo, one could be reminded of early morning market vendors from Medellin, a place where abundance is united with offerings. But this was Texas, and teleportation remains nonexistent.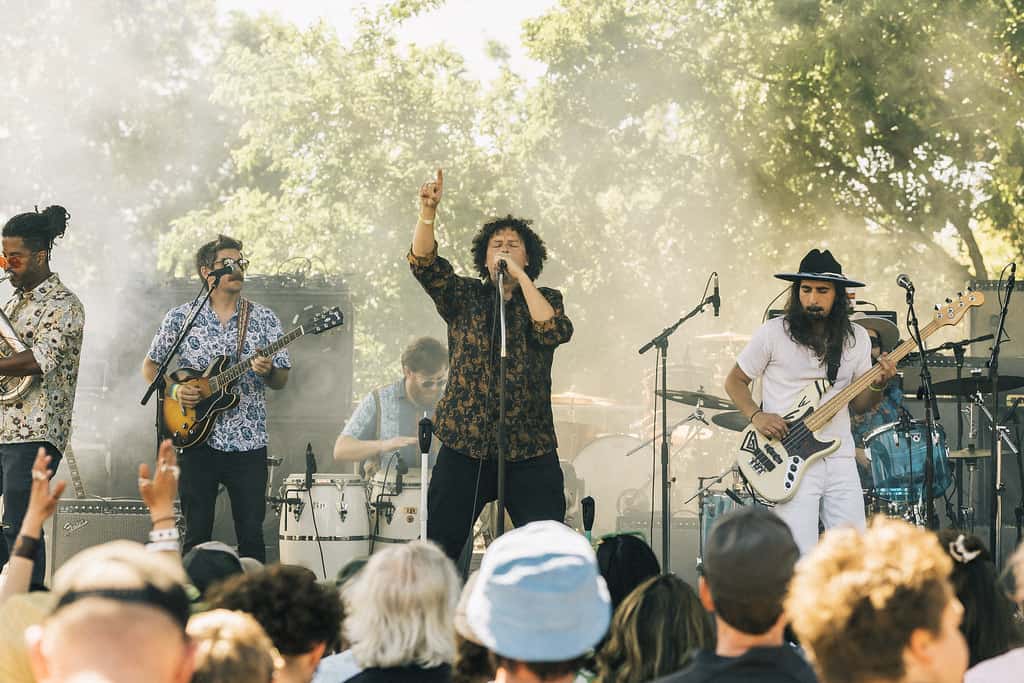 "There wasn't a Colombian music scene here [Houston] ten years ago, and once we started playing, we found it…"
Sanchez said while discussing the inspiration of how their band came to be. They were the pioneers of the Colombian Caribe music that exists in Texas today. Therefore with a cathartic release into the afternoon sky, those pioneers reminded all to surrender to their hearts' desires through music and to move into the world like a beacon spreading the gospel by powerful vehicle of sound. Our voices, which in turn become our music, have the power to heal and the power to love. Most importantly, they hold the power to tell a story of the past, of culture, of hope, of sorrow, and of faith.
A similar story was told on the Janis Stage, where a women led band came forth. In 2015, drummer, Xina Ocasio, and guitarist, Betty Benedeadly, were the first two members who formed and birthed what is now the psychedelic surf rock spaghetti western band, Sheverb. Betty shared her hero's journey which began eight years ago. After falling into a familiar pattern of contempt for the mundane, going through a breakup, and feeling displaced on life's rocky terrain, she lucidly dreamt, (after "taking the strongest LSD of [her] life"), that her newly vacated present would be best spent learning how to shred on the guitar and fulfill her musical aspirations.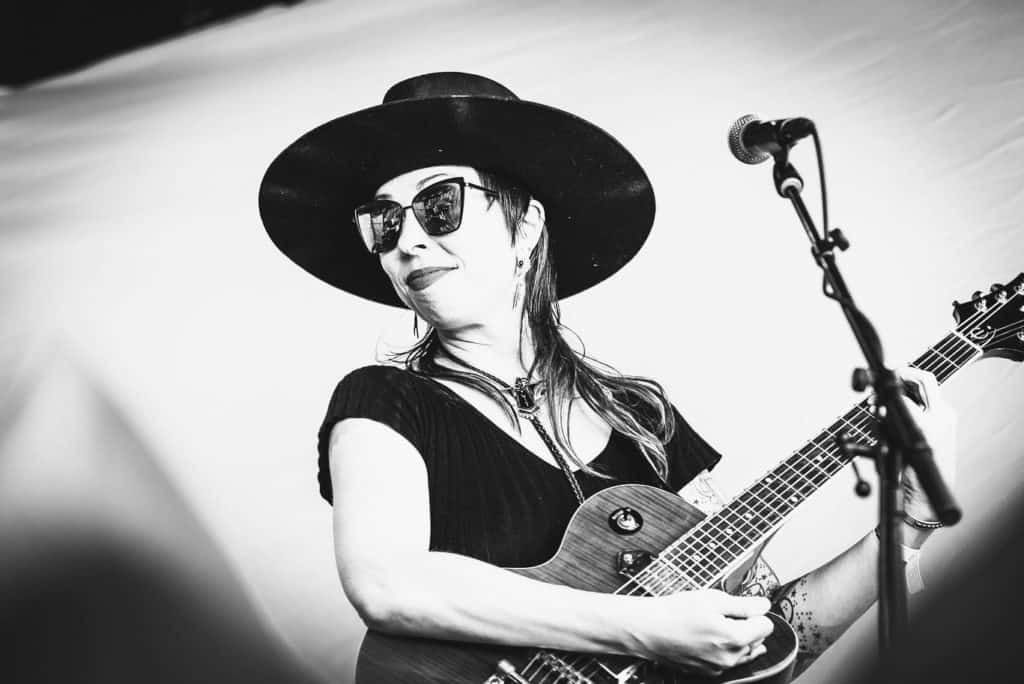 "Sheverb was born out of a desire to reimagine western motifs to call forth the future we wish to see. We hope to challenge our collective understanding of the romanticized Wild West with not only our desert-fueled, surf-infused sound, but also how we present, and what we represent. Inclusion. Elevating the feminine. Collaboration over rugged individualism. Communion with the land instead of extractionism, gold digging, and the like…
When folks hear our music, I hope they feel empowered, uplifted, set free. And of course, one with the vastness of the desert that has inspired so much of our songwriting."
The journey towards the sun in the western sky can be a long one, and treacherous one, but never impossible. Cue the trippy reverberating guitar twang, Betty reminded the audience, and myself:
"It's never too late."
Sheverb glistened on the Janis Stage like a desert mirage—too good to be true. Upon closer inspection, viewers discovered that they were in fact a pool that did exist, pouring music onto them like a summer monsoon. With a sound like a woebegone cowgirl's ballad, they galloped from song to song with surfy guitar licks from lead guitarist, Braden Guess, whose tone was similar to that of Khruangbin's, Mark Speer, and a warning to the wind from trumpet player James Ruthless Mescall. Their music evoked the feeling of walking along a dusty path while minding the mysterious stirrings coming from within the desert shrubs. Sheverb will continue to climb and as they do they will bring the Texan spirit to the stage with them.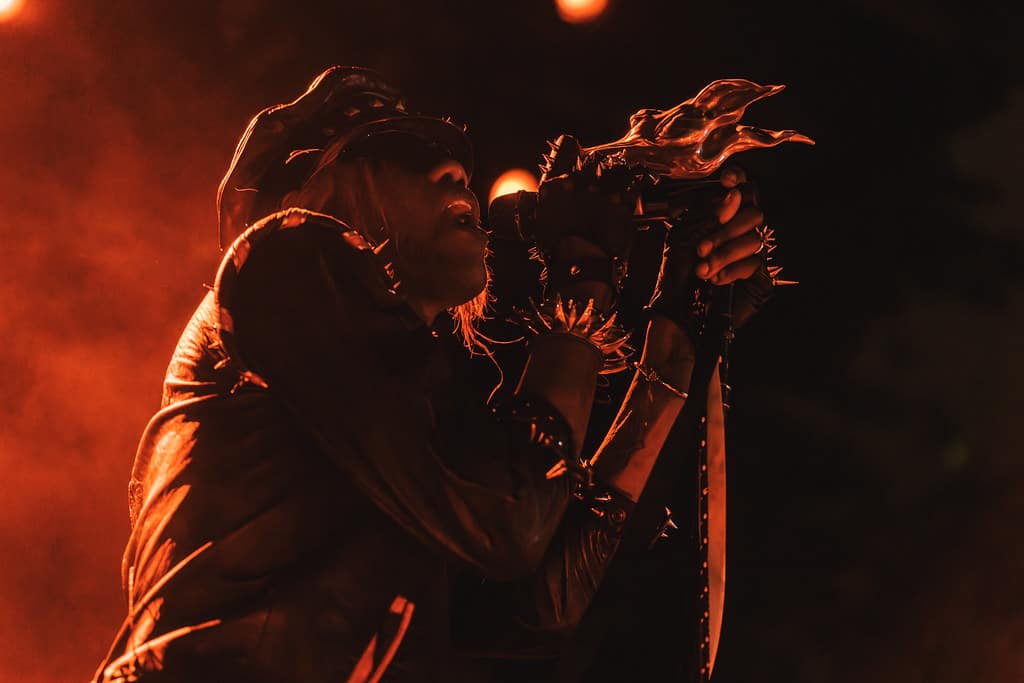 There is a particular artistry involved within creating a set as a headlining musical act. The  responsibility of creating a visceral experience which delineates one artist from every preceding band becomes that of the final performers. What distinguishes one band from the opening acts? What must occur to leave a crowd of people satisfied and yearning at the end of the night? Not only is the final act going to be paid the most but they will be the most popular and equally the greatest reason why fans buy their tickets. Honorably, Yves Tumor, Black Rebel Motorcycle Club, and Cuco took that responsibility. 
Yves Tumor curated the perfect set for the final performance of Day 1. Their most popular track, "Licking an Orchid" was brought uptempo and became almost unrecognizable, but the choice was a brilliant one. At first viewers were unsure of how to respond to the change, still bodies more easily seen than moving ones, until suddenly clarity struck and the crowd surrendered to the crescendo which Yves Tumor had slowly constructed within their 45 minute set. The ability to curate a climactic event as a headlining act is what leaves the crowd clear with resolution and dreams. Drum strokes on the upbeats were like waves  crashing harder and harder onto the crowd, propelling them backwards, almost drowning them in sound and music, suspended…Finally with a definitive drumroll and driving kick, everyone came free falling to the Earth. Guitarist, Chris Greatti and drummer, Rhys Hastings, parlayed, playing a polarizing game of tug-of-war, until Greatti took center stage and shredded the audience into pieces, melting their faces off with a passionate solo. Strobes and prismatic lights stimulated the senses, and perhaps other things, with an intensity that amplified the feeling of hyperbolic "perfect" chaos. Like a paradox dancing across the line of the unbelievable and the believable, Yves Tumor answered a question viewers were unaware they had asked. Therefore, with the satisfaction of having been rewarded with profound wisdom, Yves lovers left the south stage feeling 20 years wiser and cleansed of their woes.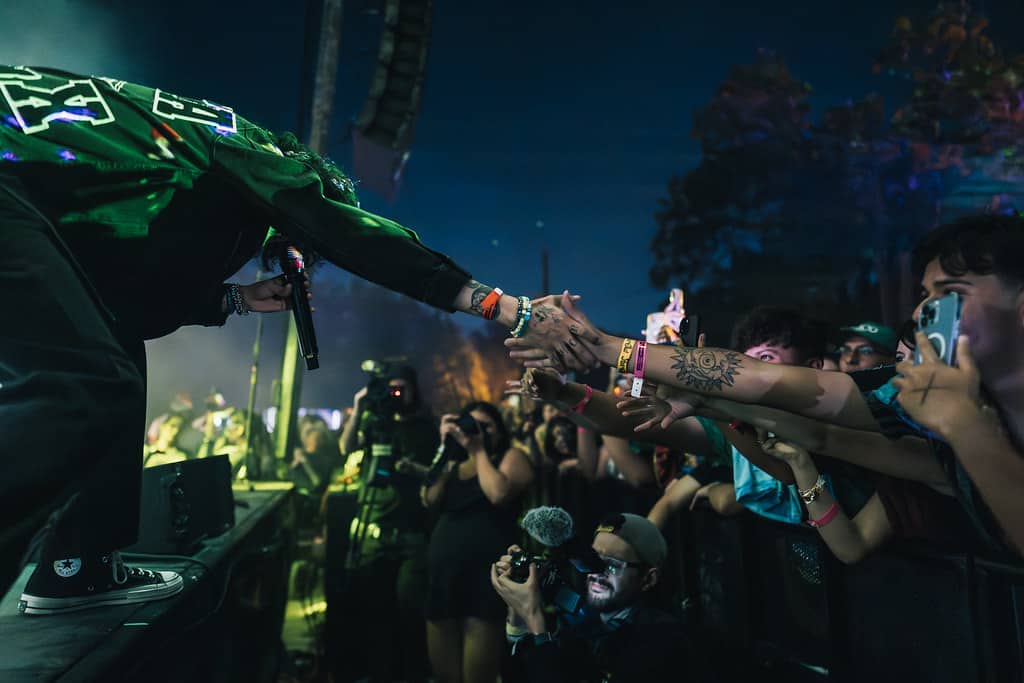 Cuco (Omar Banos) remains to be the chicano bedroom pop boy with a hard exterior. Psych Fest's Willie Stage took the heat from the bands latest releases, luckily the floor beneath drummer, Julio Farias sustained after the bleeding 45 minute set. Cuco's recent music evoked the spirit of Kevin Parker, who is still very much alive, but as an homage, bands like Melody's Echochamber, Cuco, Crumb, and Black Rebel Motorcycle Club, to name a few, paid tribute to the late Parker. This seems to be a common theme within the alternative indie world since 2015. Admirably, however, Cuco did not simply copy paste the Parker sound, but rather molded it as a celebration of the sound which has become its own genre. By adding their own chicano metal psychedelia spin to modern music, the band left old fans with their hearts in their hands while they broke their necks trying to control their bodies. New fans were left intoxicated joining the Mixed-Emotions Club where in one moment they could be swaying and singing along to a song about their ex, and in the next splitting the ground with their rhythmic stomps.
Psych Fest 2023 exhibited a charm which made space for every artist's voice to be heard. Whether focused on tone, style, or sound every band had their own voice, calling out to all the lonely people, where do they all come from? And how do musicians find their sound? What came first, the chicken or the egg? While outside of The 13th Floor smoking a cigarette, Danny "Lee Blackwell," lead singer and guitarist from Night Beats, (and UFO Club) compared the idea to that of a fingerprint.
"You don't spend hours etching out your fingerprint, it already exists, we just find it and refine its details."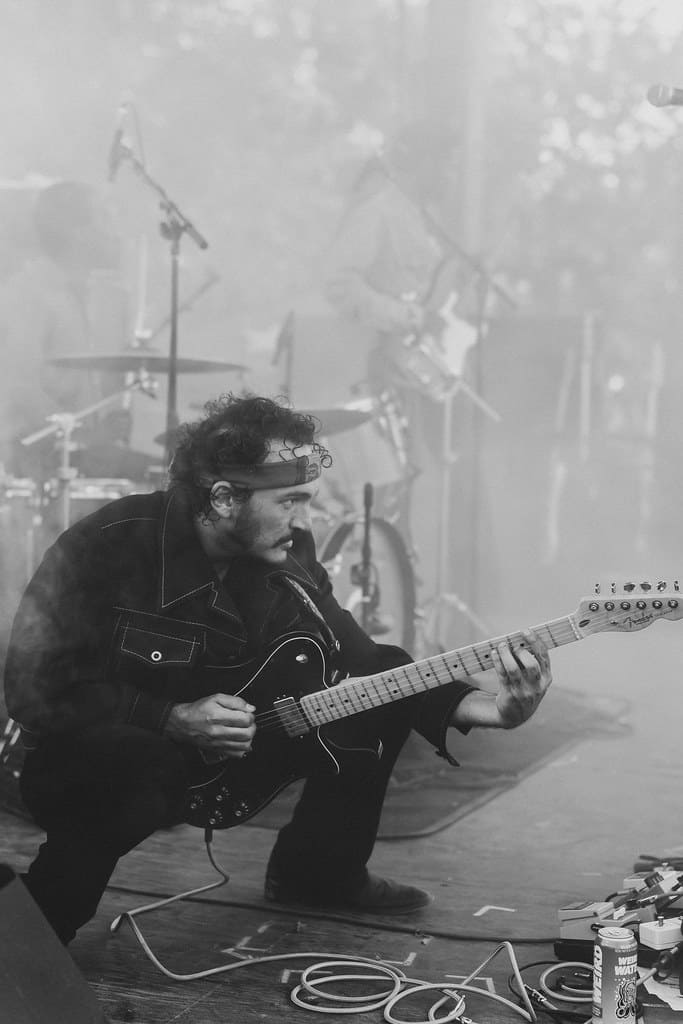 Style is something an artist and musician is born with. Articulating passionate emotions comes naturally, without thought, and sometimes poorly, in that the abrasion of our sentiments can lead to a crescendo of a conversation. Imagine translating that onto a stage. Tame Impala has created a sound that a vast majority of the population finds digestible, and it stems from a place of psychedelia. Psych music has its place in history for being revolutionary, activating, and political, and in the instance of Austin Psych Festival 2023, those same visions came to life. This year's festival was a dream come true for Sheverb, it was a platform for Superfonicos to spread their word of strength and resilience, and it was a stage where Cuco advocated for POC representation and socio-political injustices that are the people's responsibility to protest. Psychedelic music will prevail within its legacy of being the proliferated whimsical, esoteric and literary-inspired genre. It is music which celebrates music, extending itself to the deeply hallucinogenic places of our minds.
"Simplicity is the key to multiplicity," Danny Lee Blackwell, 2023.
Story written by: Tamia Vides
Editor: Maryzelle Ungo