By Jackie Wanders
My first real job out of college involved youth mentorship and I always gave two pieces of invaluable career advice: 1) do what you hate, and 2) work at 85% capacity. My reasoning was that if you combine what you love with the drudgery and exploitation of capitalism, you may grow to resent the very thing that once motivated you, and set the bar low – but not too low! – because the boss will always expect more of you (you're welcome.)
The job ultimately wasn't a good fit, and while I still believe my advice to be sound, Pete Menchetti is certainly the outlier here and perhaps evidence that I should not be in the position of giving career advice to young people. I recently chatted with Pete – who is in Gambia right now scouting locations for the next We're Loud Fest – over the ones and zeros about budget rock, his career, and what to expect at the 5th DEBAUCH-a-ReNO music festival, which also happens to be a 30-year celebration for one of his many hustles – Sticker Guy!.
Budget rock is the cheap, trashy, and raw rock'n'roll counterpart to DIY culture that anyone should be able to participate in, though it's growing more difficult due to inflation, greed, and the internet-fueled hive mind of the Etsy and Reverb-obsessed collector.
Budget rock as a music scene began in the San Francisco Bay Area, with The Mummies being the first to coin the term somewhere down the peninsula in in San Bruno, as the story goes. The sound was lo-fi and dirty and became synonymous with the legendary garage acts of pre-tech boom San Francisco like the The Phantom Surfers, The Trashwomen, and The Loudmouths. Some of the vintage guitars and amps that many of those musicians played were purchased at a shop called Bizarre Guitar in Reno, near Pete's mom's house and right next door to the video arcade he used to frequent as a kid. "Back then, no one wanted those Vox guitars and organs that cost so much now." To illustrate Pete's point, do a search on Reverb for Japanese orSears or Montgomery Ward guitars and prepare to have your mind blown.
All-out Budget Rock festivals later followed and took place for years in San Francisco in the early aughts. Bands like Sic Alps, Traditional Fools (Ty Segall's earlier band), and Thee Oh Sees all played regularly in Mission District living rooms and Bayview warehouses, all on similarly once-cheap instruments.
Of course, the budget rock ethos was hardly novel. These same guitars were considered "budget" when they were new and naturally became the instruments of choice for cash-strapped kids banging out proto-punk in their parent's garages. Sixty years later and the zeitgeist is global, yet the barrier for entry is high as it becomes more and more difficult for poor and working-class kids to catch a break. "One thing I've noticed in my travels is that in poorer countries, the kids playing in bands all come from more well-off families," Pete tells me.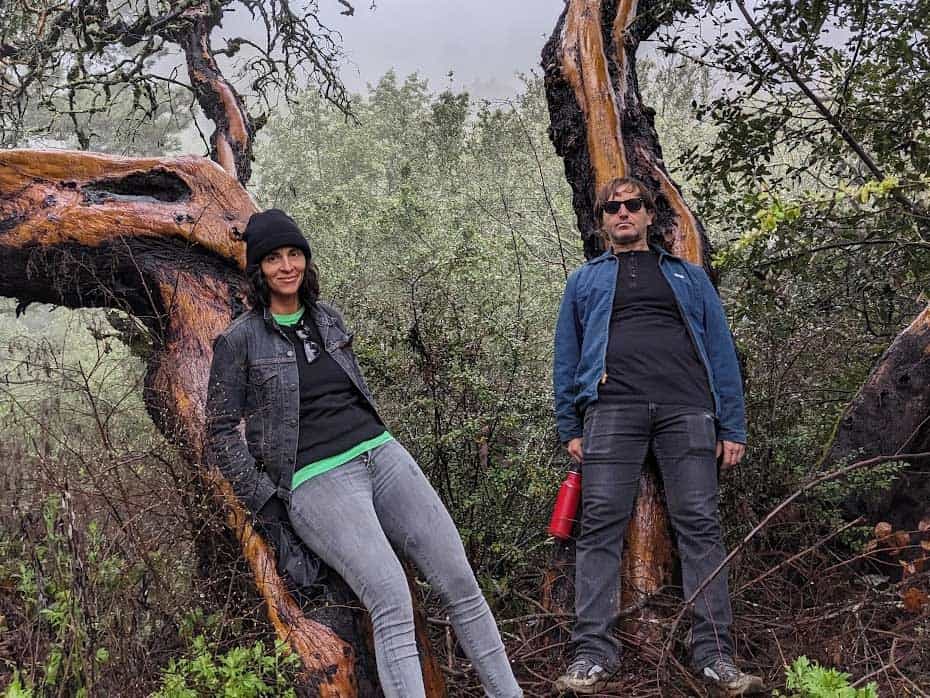 DEBAUCH-a-ReNO is a usually quintennial music festival in celebration of the Sticker Guy!. If you've ever brought home a sticker from a punk show, especially in the Bay Area, chances are it was one of Pete's.
A kid growing up in Reno in the early '90s, Pete used a fake ID to see punk bands at 21+ bars. At one of these shows, a band called Willard was selling stickers with the tag-line "The Sound of Fuck" spelled out in the Marshall font. Inspiration took hold and after much trial and error involving sheets of vinyl and laser printers catching fire, he dreamt up a printing method – now called a gang run and an industry standard – allowing thousands of stickers of various designs to be printed all at once. At 19, he began partnering with a local printer named Jay and acquired the nickname "Sticker Guy."
From there he started the punk label 702 Records and threw basement shows at 516 Ryland Street for touring punk bands passing through Reno. He eventually scrapped 702 for the more garage-focused Slovenly Recordings and began producing music festivals around the globe including DEBAUCH-a-ReNO in Reno and We're Loud Fest elsewhere in the world. In addition to Slovenly, Pete also runs a few offshoots for bands based outside of the US, including Spanish trash label I Shit in the Milk and Mondo Mongo for all other countries and their mother tongues.
It's tough to keep a cultural movement based on non-commercial art alive, much less thrive and make a living off of it, but like I said earlier Pete is the outlier here. Surprisingly, it is the Sticker Guy! business that keeps the lights on for all these events and record labels, which is certainly cause for celebration. In the spirit of budget rock, he and his DEBAUCH-a-ReNO co-organizer Eunice Gonzalez are "doing whatever we can to make the event more affordable for everyone," including taking payments via fee-free platforms and negotiating lodging discounts at local hotels (check the FAQ page for more or less budget-friendly travel info).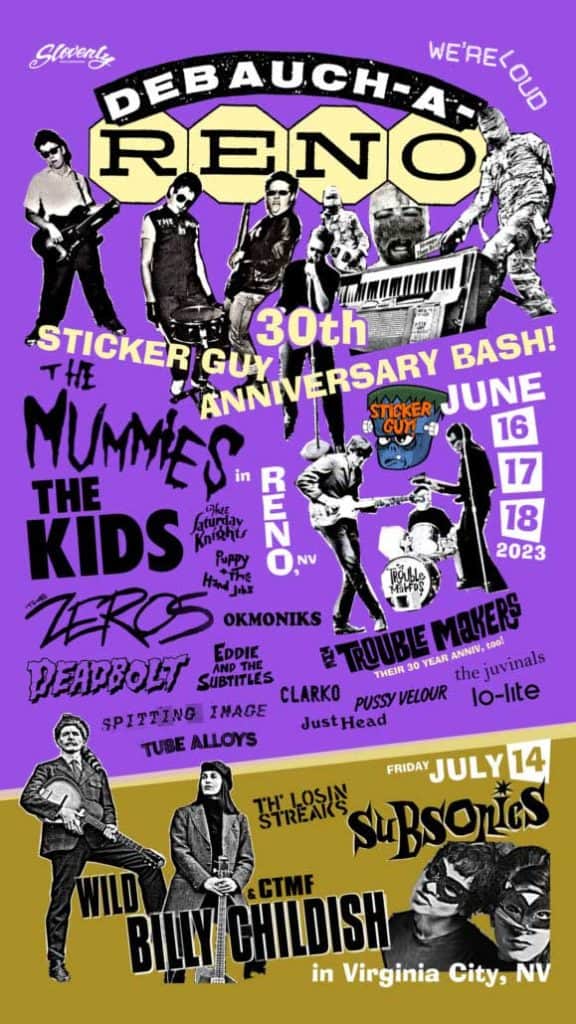 Tickets are going fast! Buy yours HERE.
DEBAUCH-a-ReNO (June 16th – June 18th – Reno, NV) 2023 Lineup
The Mummies (San Bruno, CA)
The Kids (Belgium)
The Zeros (Chula Vista, CA)
Deadbolt (San Diego, CA)
Eddie & The Subtitles (Reno, NV/Orange County, CA)
The Trouble Makers (Sacramento, CA)* celebratin' 30 years!
Lo-Lite (Arnhem, Netherlands)
The Okmoniks (Tuscon, AZ/San Francisco, CA)
Spitting Image (Reno, NV)
Puppy & The Hand Jobs (Phoenix, AZ)
Just Head (San Francisco, CA)
Tube Alloys (Los Angeles, CA)
Rotary Club (Reno, NV)
The Juvinals (Reno, NV)
Pussy Velour (Reno, NV)
Clarko (Reno, NV)
Thee Saturday Knights (Reno, NV)
DJs on site
Tony The Tyger (Oceanside, CA)
Vivi Martian (Las Vegas, NV)
Pete Slovenly (Sticker Guy!/Slovenly Recordings – Planet Earth)
DEBAUCH-a-ReNO Part TWO! (July 14th – Virginia City, NV)
Wild Billy Childish & CTMF (Kent, UK) * exclusive US show for 2023
Th' Losin' Streaks (Sacramento, CA)
Subsonics (Atlanta, GA)
DJ on site
Bazooka Joe (Slovenly Recordings/Black Gladiator – Las Vegas, NV/Kansas City, MO)