What's Hiding at Wally's Hydeout?
By Maryzelle Ungo.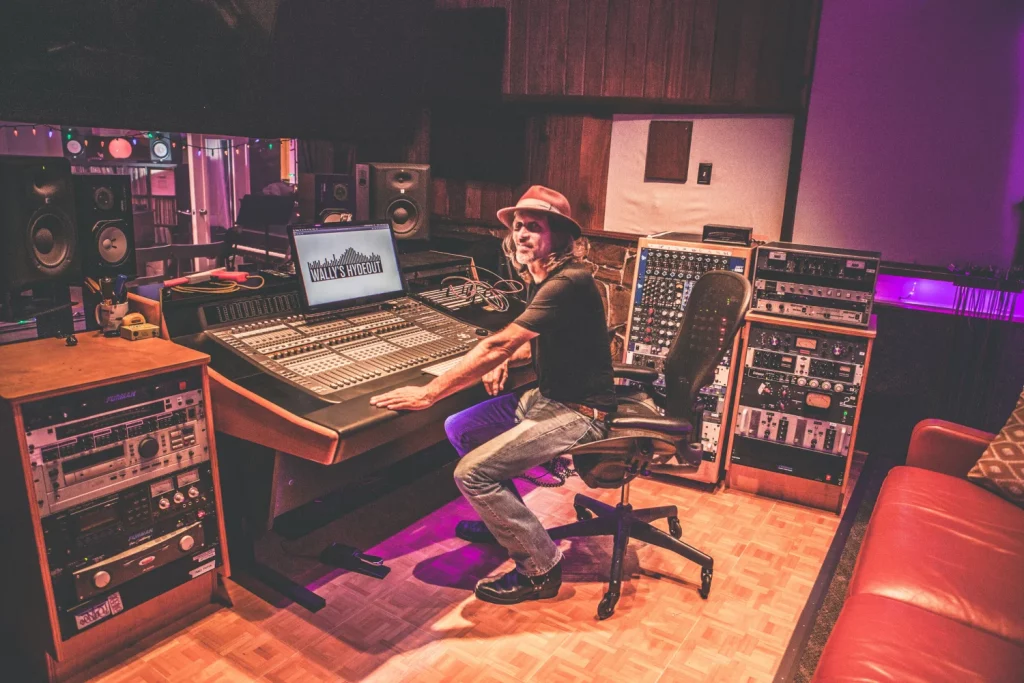 Deep in the cultural depths of San Francisco lies the infamous Hyde Street Studios. Owned by Michael Ward since 1980, it is one of history's most prolific recording studios. The multi-room facility has spawned classics from renowned artists spanning Rock, Jazz, Funk, and Hip-Hop. Upstairs in Studio C you'll find a space known as 'Wally's HydeOut,' named for the original owner, recording pioneer Wally Heider.
Wally's HydeOut was the birthplace of many groundbreaking records such as Grateful Dead's American Beauty, Santana's Abraxas, Herbie Hancock's Mwandishi, Crosby, Stills, Nash & Young's Déjà Vu, at least four Creedence Clearwater Revival records, and many other magical albums. The list of legendary records made here goes on and on, and as soon as you walk through the door you feel the sacred vibrations. The large tracking room is widely regarded as one of the best drum-tracking spaces ever built and currently boasts a hybrid of analog and digital recording, capturing that warm, vintage sound while allowing for a modern workflow. Co-owned and operated by producer/engineers Jaimeson Durr, Scott McDowell, RoAn Gibson, and Chris McGrew, the HydeOut is a place where musical dreams come to fruition.
I was able to spend some time with Chris McGrew, who was not only super-knowledgeable about the studio, but was generally just an empowering and gentle soul to be around. I asked him, "What's hiding at Wally's Hydeout now? What's brewing in the studio that's ready to come out and bust through these doors?"
Along with recording and producing all walks of talent in the historic studio, McGrew also finds time to work on his new project, Seal Party. The party is primarily hosted by McGrew and his creative partner Kevin Seal, and the duo invite some of their favorite (and some of the world's most renowned) players on to their recordings and shows. Featured musicians include cats who have played alongside giants of the industry, from D'Angelo to Stevie Wonder to Kanye West.
"We have so many great musicians in our orbit, and we had the ability to mix it up and try out different things on each song. We have a core group and a pretty wide range of badasses who are happy to come and join us. Like any good party, we bring people together who might not have ever found each other otherwise."
The new Seal Party record, MMXXII, is filled with an exciting range of special guests, from R&B royalty like Isaiah Sharkey (D'Angelo, John Mayer) and Keyon Harrold (D'Angelo, Maxwell), to punk icon Larry Boothroyd (Victims Family, Jello Biafra & the Guantanamo School of Medicine) and local guitar legends Kelyn Crapp and Jon Axtell. Ensemble playing from Uriah Duffy (Christina Aguilera, Fantastic Negrito), Ben Misterka (Collectivity), Rich Armstrong (Boz Scaggs, Jazz Mafia), Daniel Casares (The New Mastersounds, Atta Kid), and organ wizard Chris Rob (Stevie Wonder, Kanye West) offer us a supremely cohesive sound. MMXXII was written and recorded at Wally's Hyde Out in the legendary Hyde Street Studios,and mixed by Jaimeson Durr (Sammy Haggar, Bob Weir).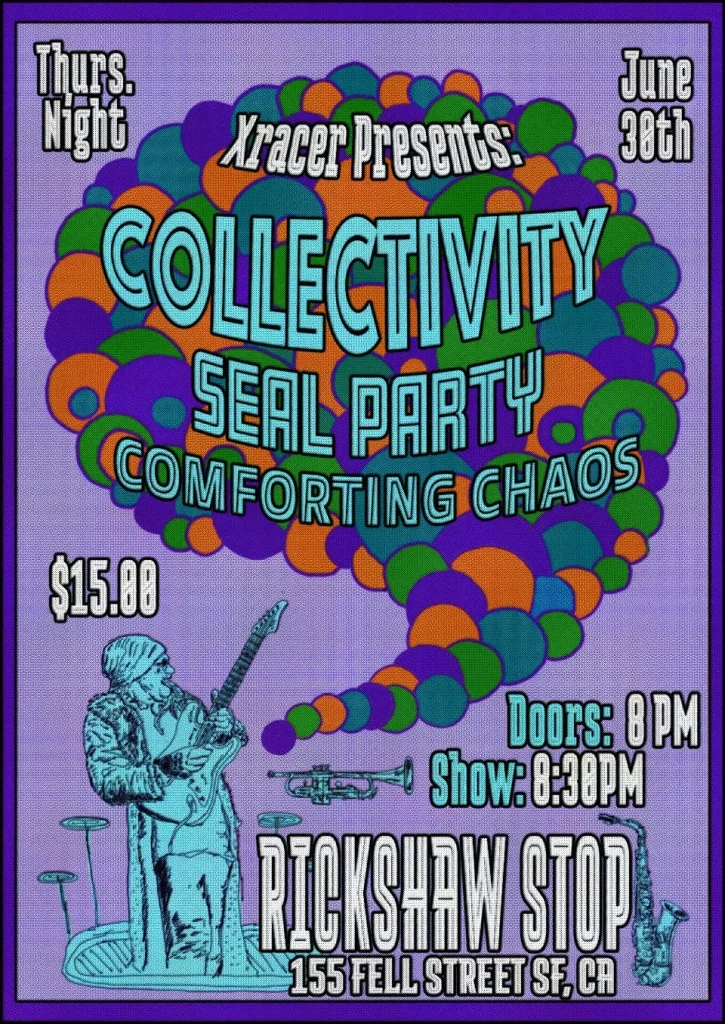 Seal Party started out as an exploration in album rock and R&B, and those who have heard the pre release mixes say that what's brewing at the HydeOut right now is a fusion of Curtis Mayfield and David Bowie. Don't be late to the party. On June 30th, we are all invited to celebrate the release of Seal Party's new album at the Rickshaw Stop.
There is still a thriving music scene in San Francisco, and to find it you just need to look right where it's always been. From 1969 until today's session, it's been happening here at Hyde Street Studios.
Seal Party Dates:
-5/8 Ivy Room Ivy Room Tix
-6/30 Rickshaw Stop (album release) Rickshaw Show tix
7-2 Chicago
7-3 Madison
7-4 Champaign-Urbana
7-5 Bloomington
7-6 Cincinnati
7-7 Michigan City
7-8 Green Bay
7-9 Milwaukee
7-10 Chicago